April 17, 2007 on 12:45 pm | Posted by mer | In
General
|
No Comments
There's much much more to the Wolfowitz story about his girlfriend.  But it's his Middle East agenda which is far more scandalous.  A few quickies right now.

 Paul Wolfowitz has long been considered one of the most pro-Israeli Zionist operatives in Washington. Here he is pictured with Ariel Sharon and other leading American Jewish Neocons, all proteges of Sharon and his Likud Party, who all played vital roles in bringing about the invasion and occupation of Iraq.
 ** When Wolfowitz took the job he brought with him two blowhards from the Pentagon to help him quickly take over the bank and purge the professionals standing in his way.  Within two years fully 50% of the Bank's top professionals were outed, including the head of the Middle East division.
 ** While still the #2 at the Pentagon Wolfowitz arranged illegal double-dipping for his girlfriend; the full facts of which remain hidden from public view.  What we're hearing is that Wolfowitz sent his girlfriend to SAIC, one of the biggest Pentagon "private sector" agents where she was to lend a hand at matters Middle Eastern. The Bank was never told, her compensation was never revealed, and in fact it is totally against firm Bank rules for things of this kind to take place without an explicit bank ok.
* When Wolfowitz came to the bank in 2005 he not only got his girlfriend sent over to the State Dept (where she reported to the Vice President's daughter who had been made the Assistant Secretary of State for the Middle East (no joking!) but he also arranged for Congress to fund with some $40 million plus a new Foundation to bring Democracy to the Middle East.  As of this scandal the Foundation has no accomplishments, no reports, no hired staff, and not even a phone of its own!  The one person who has been seen sitting around the Foundation's sub-leased office…you guessed it…Wolfowitz's girlfriend…
And there's more….coming soon…
April 15, 2007 on 11:53 pm | Posted by mer | In
General
|
1 Comment
I really don't have a comment, I think the picture speaks for itself. I just had to put this here for you to see.
"New York Mayor Rudolph Giuliani, right, dressed in drag as a role in "Victor/Victoria," sings with Julie Andrews at the New York Hilton in this March 1, 1997 file photo, during an event presented by the Inner Circle. Shocking New Yorkers is difficult, yet Giuliani teetered close to the line when he sauntered on stage wearing a platinum blond wig, a face full of makeup, dainty white gloves and a frilly pink gown filled out in all the right places. Dressing in drag is de rigeuer for New York mayors at the city's annual Inner Circle dinner - but how it will play with conservative voters in the Republican presidential primaries is unknown. (AP Photo/Joe DeMaria, File)"
April 14, 2007 on 12:41 pm | Posted by Mark Bruzonsky | In
General
|
5 Comments
 13 April 2007 -  http://www.middleeast.org/articles/2007/4/1486.htm
     WOLFOWITZ MUST GO!                        
                               By Mark Bruzonsky*
For the good of our world it's time for Paul Wolfowitz to go!  
For the good of our country it's time for Paul Wolfowitz to go!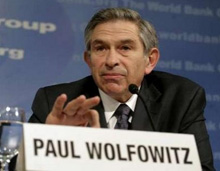 April 13, 2007 on 11:00 pm | Posted by mer | In
General
|
1 Comment
All these years after 911, as serious people begin to ask serious questions about the realities of that horrible day, I thought it would be interesting to take a look at this old interview conducted by the Pakistani Dawn newspaper with Osama Bin Laden just a few months after 911. This was published during the war in Afghanistan, before the attack on Tora Bora.
April 13, 2007 on 10:15 pm | Posted by sharif | In
General
|
1 Comment
These remarkable words from John Gleeson, editor of the Winnipeg Sun, a major Canadian newspaper. There is a law making its way through the Iraqi parliament that, at least according to this man, proves the malicious intentions of George W. Bush and his collaborators in Iraq. Continue reading…
April 10, 2007 on 5:03 pm | Posted by mer | In
General
|
No Comments
THE CASE FOR IMPEACHMENT - Mark Bruzonsky, the publisher of MiddleEast.org,   discussed the Case for Impeachment with the book's author, Dave Lindorff, on 10 April.
Listen to the discussion at MiddleEast.org or by using this direct link: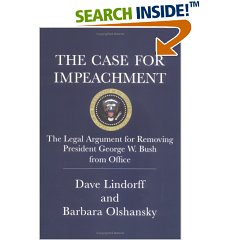 http://www.middleeast.org/interview/4-10-07/index2.htm.  Then please tell us what you think on this most critical of subjects facing the citizens of the U.S.
April 9, 2007 on 2:47 pm | Posted by Mark Bruzonsky | In
General
|
No Comments
This from Scott Ritter at the end of March is a very helpful summing up of the situation in Washington, the Democrats pretending and hiding, the Republicans twisting and awaiting the right moment to greatly expand the Middle East 'Clash of Civilizations' (their War On Terrorism) so it will not be extinguishable no matter who is the next President… Mark Bruzonsky
Calling Out Idiot America by Scott Ritter
The ongoing hand-wringing in Congress by the newly empowered Democrats over what to do about the war in Iraq speaks volumes about the level of concern (or lack thereof) these "representatives of the people" have toward the men and women who honor us all by Continue reading…
April 9, 2007 on 2:35 pm | Posted by mer | In
General
|
No Comments
Huge turnout for anti-US rally
Monday April 9, 2007
Guardian Unlimited

Iraqi Shia supporters of Moqtada al-Sadr wave the Iraqi national flags during an anti-US rally in Najaf. Photograph: Qassem Zein/AFP

Hundreds of thousands of supporters of the radical Shia cleric Moqtada al-Sadr took to the streets of two Shia holy cities in Iraq today and protested against "US occupiers".
April 9, 2007 on 2:33 pm | Posted by mer | In
General
|
No Comments
From Khrushchev to Sadat, many world leaders have felt the venom of Mohamed Hasseinein Heikel's acerbic commentary. Robert Fisk has an audience with the great Egyptian writer
9 April 2007 in The Independent
Mohamed Hasseinein Heikel: The wise man of the Middle East
April 8, 2007 on 1:28 am | Posted by sharif | In
General
|
1 Comment
Only two words needed to describe this man and yet another story that demonstrates the contempt for basic ethical standards that has become the hallmark of Washington neocons.
Paul Wolfowitz, the former deputy Secretary of Defense under Donald Rumsfeld has given his "girlfriend" at the World Bank a raise so huge that she now earns more than the Secretary of State. A few newspapers reported recently that the raise was approved by the World Bank board of directors, but they are denying any knowledge of the issue. Continue reading…
Next Page »